FAIRagro is a community-driven initiative within the National Research Data Infrastructure (NFDI) and focuses on the agrosystem domain needed to develop sustainable crop production and agroecosystems.
FAIRagro survey – still until 21.01.2024
You are working with data in the agricultural domain? Then we would be happy to have you participating in our new survey on the quality of agrosystem research data!

Our mission
We will establish an interoperable and scalable RDI by connecting available repositories to make research data FAIR. We will facilitate combined data analyses and establish a multilevel support system by setting up a Data Steward Service Center. We will provide guidelines and information material, and focus on knowledge transfer for agrosystem researchers. FAIRagro will address quality and legal security challenges beyond the FAIR principles.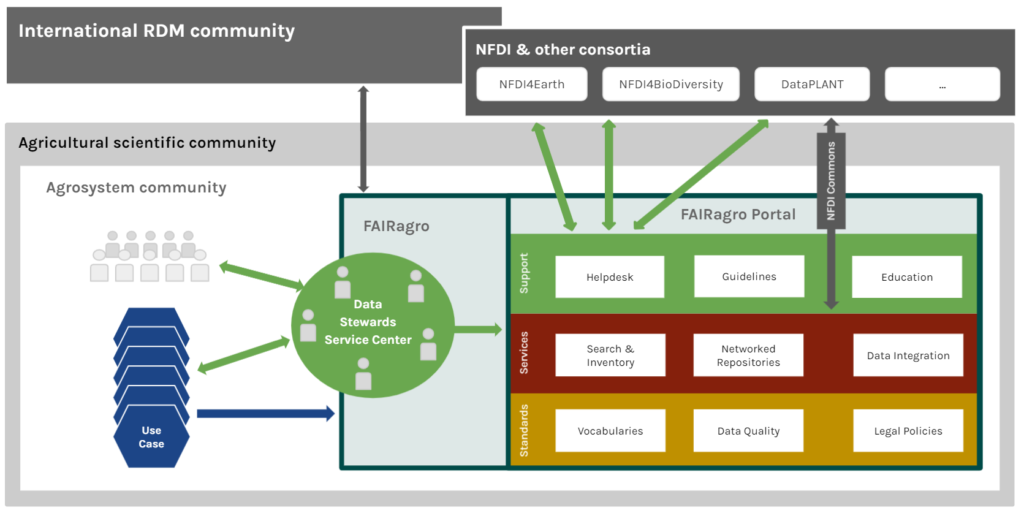 Our aims will be accomplished by close collaboration with other NFDI consortia and the inter/national community. We will advance NFDI ambitions with expertise and approaches for legal data security challenges, stakeholder involvement and RDIs for highly interdisciplinary and multi-scale research in a field of high societal relevance.
FAIRagro
This NFDI consortium is an initiative of NFDI4Agri for the agrosystem domain.
Our objectives
FAIRagro will develop an interoperable and scalable research data infrastructure for agrosystems research.
Partners
FAIRagro comprises partners with excellent disciplinary expertise and with many years of experience in research data management.
Statements of data users and providers from the scientific community
FAIRagro
Do you want to join us?