BonaRes Knowledge Library
The BonaRes Knowledge Library of UFZ is a structured database for scientific publications on processes in soils and related soil properties providing valuable information for model simulations.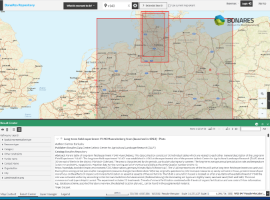 BonaRes Repositorium
The BonaRes Repository hosted at ZALF provides access to German national and international soil and agricultural research data, soil profile data and time-series from agricultural long-term experiments (LTE).
DWD's Open Data Server
The Open Data Server of the DWD provides spatial weather and climate information including data model forecasts, radar data, current measurements and observations and a large amount of separate types of climate data.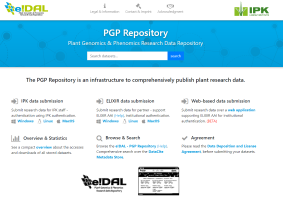 e!DAL-PGP
e!DAL-PGP, provided by IPK, is a plant genomics and phenomics research data repository (PGP). It publishes large volumes of primary data files in a FAIR manner. PGP is accepted as a data publication repository by Nature publishing group and Giga Science, ELIXIR, de.NBI.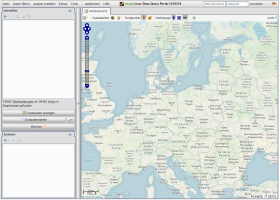 Edaphobase
The European data warehouse Edaphobase combines data from diverse sources (literature, museum collections, research data) on soil animals and their sites of occurrence. The data query portal of Edaphobase is open access and provides basic data-analysis tools. Edpahobase is provided by Senckenberg – Leibniz Institution for Biodiversity and earth System Research.
GBIS/I
GBIS/I is an information system of the IPK ex situ collection for crop and wild relatives. It provides passport data and primary evaluation data.
JKI Data Cube
As part of the JKI Spatial Data Infrastructure, JKI-DataCube is an Array Database Management System, which makes multi-dimensional time series of gridded geodata (e.g., weather and phenological data or satellite imagery) available by using standardized web services.
LIMS
LIMS is the IPK institutional laboratory information management system. It is used in general for documenting and recording all kinds of experimental research data in the lab or in the field like sequence data, phenotypic images or sensor data.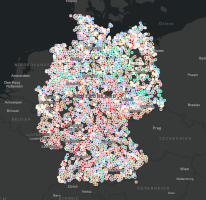 National Agricultural Soil Inventory
The National Agricultural Soil Inventory (BZE-LW) of Thünen Institute offers a consistent and representative inventory of chemical and physical soil properties in the top 100 cm in agricultural soils. The main purpose is to understand the influence of climate, land use, agricultural management and site properties on soil organic carbon stocks. Additional parameters such as texture, pH-value, bulk density or parent rock are provided.
National Forest Soil Inventory
The National Forest Soil Inventory (BZE Wald) of Thünen focuses on status and changes of soil and forests condition, impacts of environmental factors on soil and crown condition like atmospheric deposition, climate, growth, vegetation, tree nutrition and biodiversity, and sustainable forest management.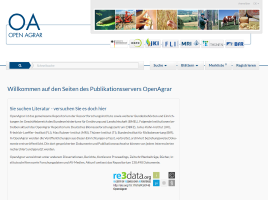 OpenAgrar
OpenAgrar is the collective repository of research institutions affiliated with the BMEL in Germany. It is an open access repository which publishes, stores, archives and distributes documents, publication references and research data.
PhenoRob data infrastructure
PhenoRob is an infrastructure of UBN, providing agricultural field data spanning the scale from single plots to the region, including field phenotyping and satellite data. Data are linked to mechanistic and structural plant models as well as economic and ecological landscape models.
PlabiPD
PlabiPD of FZJ contains plant genomic, transcriptomic and ontology data for crops relevant to the German landscape. It provides careful annotation of plant genomes using manual derived annotation and curation data.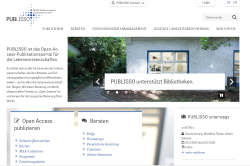 PUBLISSO
The PUBLISSO Repository for Life Sciences is an infrastructure for secondary publication of articles, books, proceedings and research data provided by ZB MED.
SRADI
SRADI (Smart Rural Areas Data Infrastructure) of TUM is an interdisciplinary data platform for the comprehensive structuring and sharing of research data in the field of life sciences.